If you've been taking photos with a DSLR camera, you'll know that the internal flash doesn't quite cut it for low light scenarios. With this article from CNET, you'll be able to construct your very own and get good results especially if you can't afford an external flash.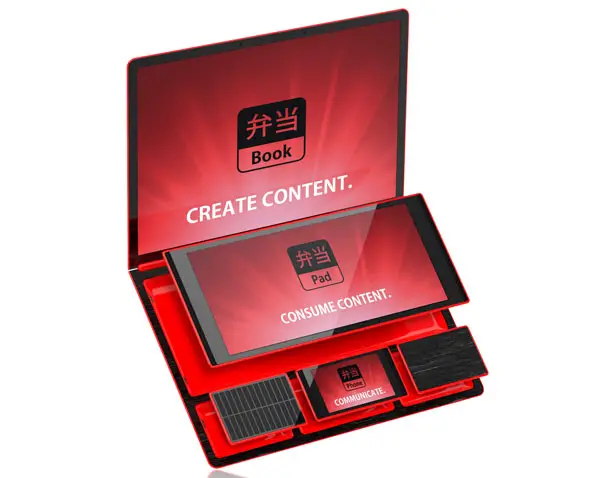 Designed by Rene Lee, this interesting concept provides a look at what mobile & modular computing could look like. It's an interesting idea and a good possibility - we all carry enough gadgets these days as it is!
Technology now a days is awesome.
Boxx-The One Meter Vehicle.

Simply practical.
John's Phone Business is the world's simplest black cell phone: no frills nor unnecessary features such as a camera, text messaging and an endless number of ringtones. You just call, hang up, and that's it.
Can you live without your smartphone?
TED talks shouldn't be a mystery to anyone by now, but perhaps the delightfully eclectic Chip Kidd is.
For those who are unfamiliar with his work, Mr. Kidd is a (somewhat legendary) Graphic Designer who gave us such memorable book covers such as Jurassic Park and more recently, Hakuri Murakami's IQ84. Regardless, we hope you'll give this 16 minute video a chance, because Mr. Kidd delves deep into the challenges of conveying content in the form of imagery and more importantly, why physical books won't be going away anytime soon.
RE3 Design approved!
Yet another Japanese-designed product that RE3 loves: the Desktop Chair
Here's a little information about the design studio behind this functional piece of art:
MOKU is a Japan-based atelier run by Masayuki & Hideyuki (son & pop), a dynamic duo combining the expertise in modern industrial design and traditional woodcrafting.
The idea of Desktop Chair, our first project, came from our own genuine need for something which we feel comfortable putting our laptop on while working on a large screen.
If you like what you see (and you should!), be sure to head over to their indiegogo page. Unfortunately, they weren't able to garner enough funding to get the project going, but who knows? Maybe they will roll out another project soon.
We love the elegance and minimalism of this poster from the 1964 Olympics held in Tokyo.
It looks like RE3 isn't the only looking to team up with some Japanese companies.
LEGO x MUJI!
OnlineSchools.org presents Japan One Year Later
The use of social media to raise public awareness pertaining to key societal issues is nothing new. From the Arab Spring to Occupy Wall Street, networks such as Facebook, Twitter and Tumblr have all played integral roles in uniting the masses.
Learn to share, using Twitter, Facebook and other social platforms of course.
More recently, slacktivism, and its meteoric rise to the forefront of news headlines across the globe (spurred in part by the now infamous Kony 2012 video) have only served to solidify the importance of social media, and more importantly, show that people do care about each other. 
The problem with slacktivism is that knowledge of an issue does not mean action. But knowledge is the first step, and an important one at that.
As we mentioned before, RE3 Design is making a concentrated effort to help out the rebuilding efforts taking place in Japan. If you'd like to join us, please refer to the links below:
Text REDCROSS to 90999 to donate $10 (or to 30333 in Canada)
It's no secret that RE3 Design traces it's design roots back to the simple, yet effective teachings of the Japanese culture. Whether it is the no-frills functionality of Muji products or the breathtaking architecture of Tokyo, one thing remains clear: RE3 Design owes a great deal to the wonderfully creative people of Japan.
A Contemporary House in Tokyo, Japan Architecture Idea by Keiji Ashizawa
This past January at our One Year Anniversary Party, Co-Founders Jason Angeles and Myles Guanzon spoke about this very fact, citing their trip to Japan in 2009 as a turning point in the way they viewed not only design, but functionality as well.
Jason explains, "Japanese culture is infused with simplicity. For example, food is prepared in necessary portions and architecture maximizes space efficiently. This minimalist approach inspires the way I work and how I design. In the end, I only focus on what's essential."
A sampling of Muji office products
This philosophy has spread like a wildfire at RE3 Design, and from top to bottom we truly believe in the power of unembellished design that emphasizes functionality over flair.
With that being said, for the remainder of March, our blog will be dedicated to the ongoing recovery efforts taking place in Japan. While the 3/11 tragedy may no longer be in the headlines, the country is nevertheless entering a pivotal phase in its recovery process.
Stabilization.
Our goal is twofold: to pay homage to the creatives of Japan, but more importantly, to continually remind the community that there are people who still need our help. 
Japan. We Remember. 
The question we're all asking: "where's the aux port?"
(via youbringfire)
Reducing our footprint one step at a time
The number one rule to life. For some. Including us.
(via minimalistmatt)
One day late, but inspiration doesn't follow a timeline.